How to choose your yacht tender
3rd August 2021
Scroll Down
Compared with the excitement of specifying your new luxury motor yacht, buying a yacht tender may seem like a small thing.  We may be slightly biased, but spending time considering what you might need from this small but vital workhorse will definitely be worth the extra time and effort. So much more than an inflatable boat, choosing the right yacht tender for you, could uncover a whole world of new activities and destinations for you to explore.
The vast majority of yacht tenders, including Williams, are rigid inflatable boats or RIBs.  They are lightweight, extremely buoyant and robust thanks to their inflatable tubes, but with a rigid fibreglass hull which gives extra stability in the water – even in choppy conditions. They are safe too, so it's no real surprise that the RNLI use this type of inflatable boat for many of their rescue missions!
The inflatable tubes are generally made from PVC, PU or Hypalon. For Williams the material of choice is Hypalon – a synthetic rubber coated nylon that's generally considered top of the range material for inflatable boats of the highest quality.  It's uv resistant, highly durable, and it's easy to repair.  It also comes in wide choice of colours and textures, (see the Williams configurator if you want to see just how many!)  which means you can personalise your boat to your own taste.
Williams jet tenders are powered by waterjet propulsion. Compared to outboard engines, they are quieter, more reliable, have fewer moving parts (most are inboard) and give the boat more precise steering control, especially at speed.  The shallow draught also means the boat can navigate shallow water and beach landings with less risk of damage to the engine.
When it comes to choosing a tender or inflatable boat, there's a huge variety in weight, size and type.  It's vital that you make the right choice both for yourself and for your yacht, as dimensions and capacity are different across the range.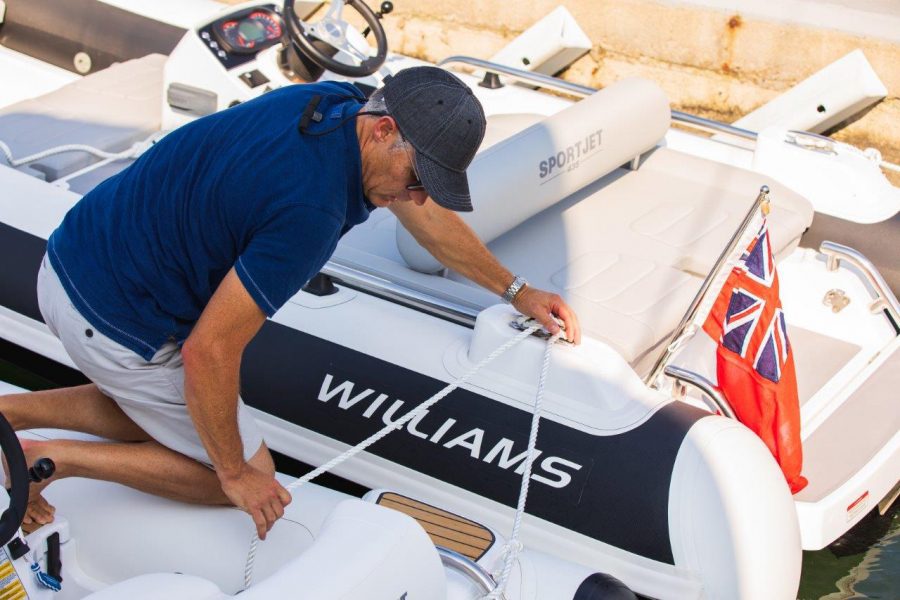 CONSIDER YOUR USE
Will you take your tender out exploring with the family for the day? Is it big enough for the entire family, (and their luggage) and is there plenty of storage on board?  Do you enjoy watersports activities so would you want to use your boat to tow a wake-board or water-ski, or are you using your tender simply as a means to take you from ship to shore when you need provisions or to visit a beach side restaurant.
These are all aspects that impact your choice of tender, so should be considered when you are looking at the options.  And don't forget, there are often a range of optional extras that could make your activities simpler and more enjoyable.
IS IT RIGHT FOR YOUR YACHT?
Yacht owners need to be completely in tune with how to launch and stow their inflatable boat. Depending on your yacht, you can use crane, passerelle or bathing platform.  Either way, it's vital that your tender stays within the rated lifting capacity of your launch and recovery equipment.  Owners need to feel confident that they can launch and recover their boat safely and easily.
No matter how big you want to go, when it comes to fit, you'll need to do a little preparation to ensure your tender will comfortably fit your stern garage, and measure carefully.  Williams provides suggestions as to the right fit for the size of yacht, but you will still need to take measurements to ensure the right fit, and don't forget, you'll need lifting kit, chocks, tie-down straps and eyes. Our team will offer advice and training if you need assistance with this, but we'll also do the fitting for you.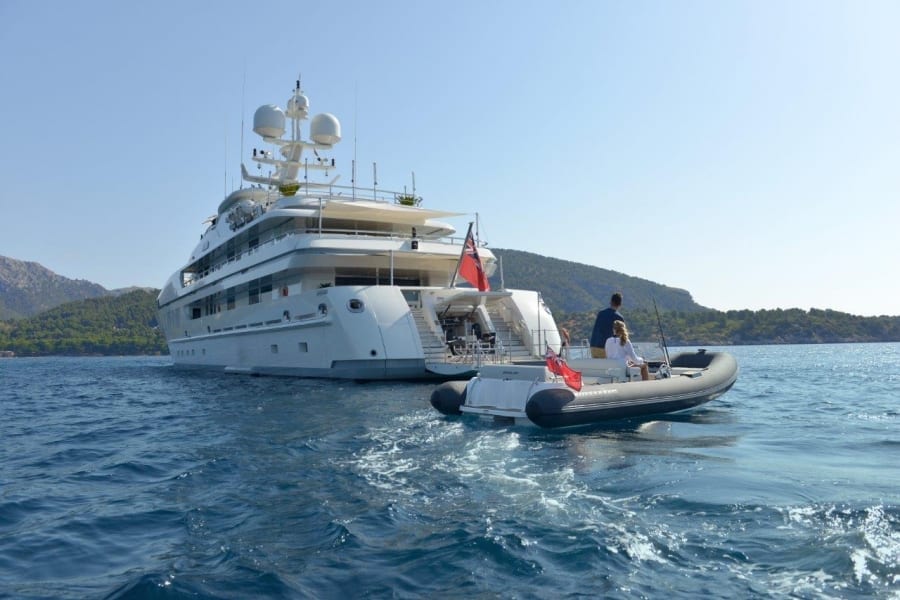 PREPARE YOUR YACHT FOR YOUR TENDER
There are a wide range of products out there that can be fitted to your yacht to simplify using your tender and ensure it is always ready to launch without issue. Charging points, hard-wired inflators and flushing points all make running your tender a care free experience. And don't forget, every model within the Williams range comes with a selection of options from bathing ladders to ski-poles, so take your time, think about what you are going to need, and when you are ready, contact our team, who will take you through the details.
To arrange an initial appointment, call our team on +34 971 694 373 or email enquiries@williamsbalear.com